Kiwi Tennis Club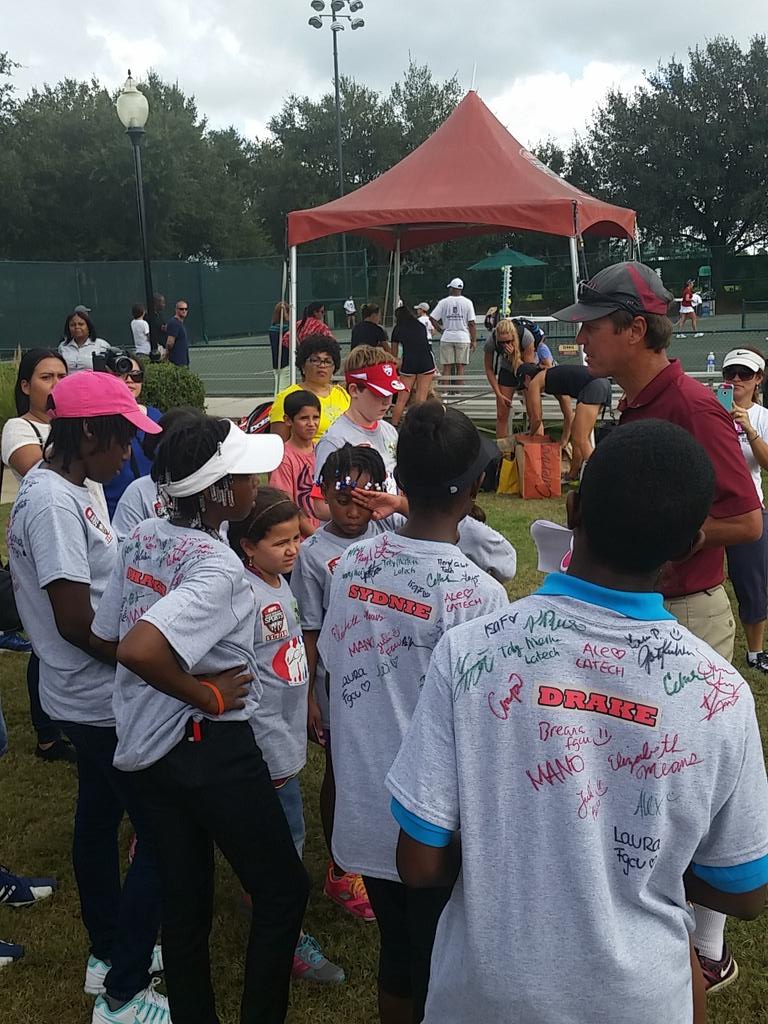 On Saturday November 7, our Youth Tennis League traveled to the ESPN Wide World of Sports complex at Walt Disney World to witness the Collegiate Clay Court Invitational hosted by the Florida State University. It was a loooooong day for everyone which included watching matches in the morning at ESPN and playing matches in the evening at the Kiwi Tennis Club in Melbourne with a visit to Disney Springs in between. But even with the amount of time spent sharing a vehicle, our players will always remember the time we spent watching and playing tennis.
While attending the event at ESPN Coach Ken led the players from court to court gathering autographs from as many players as he could find, which wasn't very hard because they were EVERYWHERE! You can see some of the autographs on the back of the shirts in the pictures.
Josie Kuhlman and Brianna Morgan of Florida, Yukako Noi of Florida State, Florida Gulf Coast, Clemson, Georgia, and others gave each of our players a little bit of their time and a signature to go home with. It was a truly memorable experience for us and, I'm sure, for the players, too. You're not going to get this kind of attention at a professional tennis tournament!
But before we were ready to move onto our next destination, FSU Head Coach Dwayne Hultquist graciously accepted our invitation to speak to the group. So we all gathered around him while he spoke to the kids about being a part of the Team, doing your part to help the Team, and traveling with the Team to far away destinations like Hawaii. I just hope our players appreciated what it meant to have Coach Hultquist speak to the group. Because while he was speaking to us, the FSU Men's team of Jose Garcia and Marco Nunez were embroiled in the heat of battle against the team from Louisville. Garcia and Nunez would go on to capture the title in the Gold division, taking out Pepperdine in the Final.
On the Women's side, Josie Kuhlman and Brianna Morgan of the University of Florida would face Gators teammates Spencer Liang and Peggy Porter in the Final to also win the Gold division. They would destroy the Clemson team 8-4 in the semifinal.
Seeing a tennis match in person makes the game feel much more real. And watching college tennis players play their hearts out for the benefit of their team makes it all the more special. It is why All American Team Tennis places kids on teams, and why I believe tennis would be more popular if it were a Team sport at the professional level. Who knows… maybe one day.
GO TEAM!
Every season our players are invited to join the League on a field trip to a tennis-related event. Past events include a trip to Miami to see the Miami Hurricane Women's tennis team host the Florida State Seminoles. In July of 2015 we went to Delray Beach to see the Boy's 16's and 18's Clay Court National Closed tournament. These are the guys being recruited from around the country to play on University tennis teams everywhere. Normally, field trips give our players to see top level talent and to get ideas on how we can play better, too. This time we had the chance to play because there are junior tennis players everywhere!
The Kiwi Tennis Club is located in Indian Harbour Beach, FL and is host to the Audi Melbourne Pro Tennis Classic, a $50,000 WTA Satellite event that takes place in May. This was by far the nicest facility we had even played at. And the Home team was very welcoming.
We played well, Kiwi gave our players a few gifts, and we were on our way. Where to?
We can never get enough of 'Frozen'.
To Disney Springs and lunch at the House of Blues. Disney Springs is one of Coach Ken's favorite places to hang out at the Walt Disney World resort (that and the Wide World of Sports complex). We walked up and down the walkways, stopped in just about every shop, checked out some of the new stuff, and came home with a few things of our own.
Another successful field trip.
Our field trip for Season 12 is scheduled for Saturday AND Sunday November 7-8. And I'm sure you probably guessed.. it's in Orlando. We'll have more on that later so be sure to register for Season 12 and have some fun with us next season!
A new pin for my hat!
GO TEAM!