Disney Springs
The two things that separate All American Team Tennis from your average, everyday, run-of-the-mill tennis program are the two things kids enjoy the most. Remember the feeling of excitement when you would wake up on Saturday morning and put on your football pants and shoulder pads for Game Day? Remember the feeling of anticipation when your school was planning a field trip to the aquarium and you needed your parents to sign a permission to go with the class? Or maybe when the baseball team was entering a tournament out-of-town? Or when the marching band was scheduled to participate in the Citrus Bowl parade in Orlando, Fl and in addition to marching in the parade they were planning a visit to Epcot and  staying in a hotel on the east coast just a few miles from the beach? (That last one happened my freshman year of High School). More than anything else, children enjoy spending time with their friends doing the things they find fun.
Game Day + Field Trips = All American Team Tennis
On Saturday February 20, All American Team Tennis held its first Car Wash Fundraiser in Greenacres, Fl, and it was a huge success. We've toyed around with fundraisers in the past (t-shirts, shoulder buddies) but this was probably the most visible fundraiser we've conducted because in crossing paths with so many new people it afforded us the opportunity to introduce them the the Youth Tennis League. The players and parents worked hard, we washed a bunch of cars, and received almost as many donations as cars washed. The atmosphere surrounding the event was very positive as the community really appreciates what All American Team Tennis does for the children of Palm Springs and Greenacres. But it doesn't stop there.
The Car Wash Fundraiser was geared towards raising money for our upcoming field trip to Orlando to watch the University of Central Florida Knights Women's tennis team take on the Green Wave of Tulane (they're from Louisiana. I didn't know that, either). The trip is scheduled for Friday March 25 and includes a visit to Disney Springs for dinner at the Rainforest Cafe.
Now, this isn't the first field trip our players have attended. In fact, this will be the 2nd of 3 field trips we are going on this season. And it isn't the first time we've traveled to Orlando to watch UCF play or visited Disney Springs. It just so happens, our very first field trip was prior to the start of Season 1 back in November 2011. UCF hosted an Invitational with Arkansas, Auburn, Miami, and Florida Gulf Coast so I invited the players and parents I was working with at the time to drive to Orlando with me.
It was a memorable experience as rain interrupted play, causing 10am matches to start at 2pm. This would push back everything we had planned for the day including dinner at the T-Rex Restaurant at Downtown Disney. Looking back, I don't remember who won the Invitational, but I do remember the animated dinosaurs and simulated meteor shower during dinner at the restaurant and spending more money than I had budgeted. (I learned so much that day.)
Since then we've been to see the Miami Hurricanes play Florida State in Miami, the Florida Atlantic Owls host the Owls of Kennesaw State in Boca Raton, and the UCF Knights host Florida A&M (FAMU) followed by lunch at Splitsville in Downtown Disney. We've taken players to Dave and Busters in Hollywood, FL, Boomer's in Boca Raton,  the Magic Kingdom and Hollywood Studios at the Walt Disney World resort, and the ESPN Wide World of Sports complex where Florida State now hosts their November Invitational (my personal favorite).
And we are not stopping. As All American Team Tennis continues to spread across America, children everywhere will be given the opportunity to witness some of the best tennis available: College Tennis. Players from around the world are filling college tennis rosters and these players play not only for themselves but for their team and their school. They understand the importance of being surrounded with a good support system. They realize what cooperation and teamwork can accomplish. They are always available for pictures and autographs. And they play for more than just one week out of the year. Yes, I believe, college tennis is a superior consumable product when compared to the professional game as far as accessibility is concerned because one week doesn't compare to 6-7 months. So we will continue to schedule field trips to college cities so players who participate in All American Team Tennis can be inspired by what could become their Alma Mater.
You're invited to join us on our next field trip. It could be the beginning of your child living out their dreams.
GO TEAM!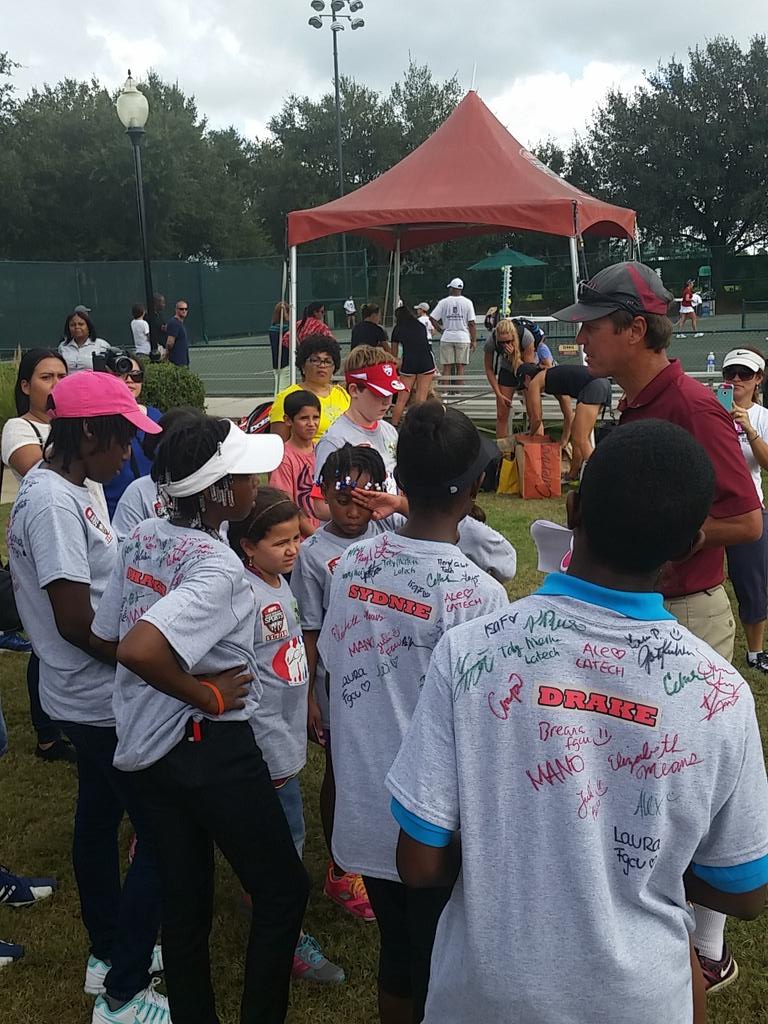 On Saturday November 7, our Youth Tennis League traveled to the ESPN Wide World of Sports complex at Walt Disney World to witness the Collegiate Clay Court Invitational hosted by the Florida State University. It was a loooooong day for everyone which included watching matches in the morning at ESPN and playing matches in the evening at the Kiwi Tennis Club in Melbourne with a visit to Disney Springs in between. But even with the amount of time spent sharing a vehicle, our players will always remember the time we spent watching and playing tennis.
While attending the event at ESPN Coach Ken led the players from court to court gathering autographs from as many players as he could find, which wasn't very hard because they were EVERYWHERE! You can see some of the autographs on the back of the shirts in the pictures.
Josie Kuhlman and Brianna Morgan of Florida, Yukako Noi of Florida State, Florida Gulf Coast, Clemson, Georgia, and others gave each of our players a little bit of their time and a signature to go home with. It was a truly memorable experience for us and, I'm sure, for the players, too. You're not going to get this kind of attention at a professional tennis tournament!
But before we were ready to move onto our next destination, FSU Head Coach Dwayne Hultquist graciously accepted our invitation to speak to the group. So we all gathered around him while he spoke to the kids about being a part of the Team, doing your part to help the Team, and traveling with the Team to far away destinations like Hawaii. I just hope our players appreciated what it meant to have Coach Hultquist speak to the group. Because while he was speaking to us, the FSU Men's team of Jose Garcia and Marco Nunez were embroiled in the heat of battle against the team from Louisville. Garcia and Nunez would go on to capture the title in the Gold division, taking out Pepperdine in the Final.
On the Women's side, Josie Kuhlman and Brianna Morgan of the University of Florida would face Gators teammates Spencer Liang and Peggy Porter in the Final to also win the Gold division. They would destroy the Clemson team 8-4 in the semifinal.
Seeing a tennis match in person makes the game feel much more real. And watching college tennis players play their hearts out for the benefit of their team makes it all the more special. It is why All American Team Tennis places kids on teams, and why I believe tennis would be more popular if it were a Team sport at the professional level. Who knows… maybe one day.
GO TEAM!
Every season our players are invited to join the League on a field trip to a tennis-related event. Past events include a trip to Miami to see the Miami Hurricane Women's tennis team host the Florida State Seminoles. In July of 2015 we went to Delray Beach to see the Boy's 16's and 18's Clay Court National Closed tournament. These are the guys being recruited from around the country to play on University tennis teams everywhere. Normally, field trips give our players to see top level talent and to get ideas on how we can play better, too. This time we had the chance to play because there are junior tennis players everywhere!
The Kiwi Tennis Club is located in Indian Harbour Beach, FL and is host to the Audi Melbourne Pro Tennis Classic, a $50,000 WTA Satellite event that takes place in May. This was by far the nicest facility we had even played at. And the Home team was very welcoming.
We played well, Kiwi gave our players a few gifts, and we were on our way. Where to?
We can never get enough of 'Frozen'.
To Disney Springs and lunch at the House of Blues. Disney Springs is one of Coach Ken's favorite places to hang out at the Walt Disney World resort (that and the Wide World of Sports complex). We walked up and down the walkways, stopped in just about every shop, checked out some of the new stuff, and came home with a few things of our own.
Another successful field trip.
Our field trip for Season 12 is scheduled for Saturday AND Sunday November 7-8. And I'm sure you probably guessed.. it's in Orlando. We'll have more on that later so be sure to register for Season 12 and have some fun with us next season!
A new pin for my hat!
GO TEAM!